PLEASE CLICK 

the  WEB BUTTON  and  ADD YOUR CALLSIGN, tnx.
    RTX - Yaesu FT 450D, Kenwood TS 680S
      Ant. - Vertical R5, dipole 40/80/160m, 1 el delta loop 6m
     

Ameritron AL-811 amplifier, 3 tubes 811A
        

  ARI

sezione L30 Vallecamonica --- ASC Award

-

L30 --- sez. 2503
                      Award W.A.I.S.   -   AS21    -    EU Area for EPC Awards - > IT.LO.BS.
I use also digital modes :  WSJT-X - JT65 - JT9 - PSKxx - MFSK16 - FT8...  
First license in 1986 - I need DOK, PGA, RDA, WAB, URDA...
I need contacts for WAS -->   OK - WY
    ---      If you are from one of these states please help me out.
     

           
     

Please use

Club

log

for request Qsl card via Buro, tnx.      
Thanks for coming by and visiting my QRZ.com page
My LOG sate AO-10, AO-13 --->       http://dx.qsl.net/cgi-bin/logform.cgi?ik2ikw-sat
from 28/02/1989 to 21/12/1995.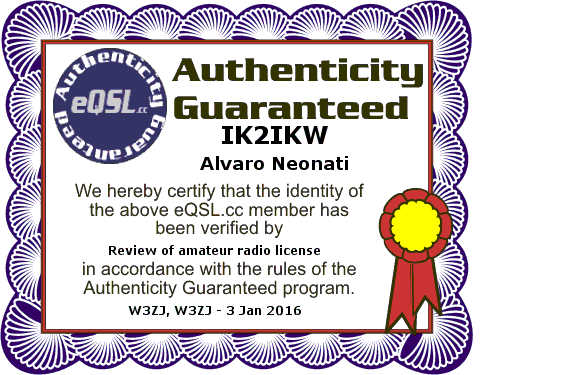 ---
                 The 1st award LDK outside DL
         Near my qth, Iseo Lake
       My qth Vallecamonica Prov. BS, regione Lombardia.    
  My website ---> www.qsl.net/ik2ikw

Large Visitor Globe