My name is Massimiliano, ( MAX for the friends).
I am radioamateur from february 2012.
I am very happy to working between the radio frequencies around of the world, and make contact with many friends.
I mainly using YAESU FT950, 100 watt only SSB, and a new antenna system like yagi 2 elements 10-15-20 and 2 elements 12-17 homemade. Add vertical antenna too, for 40-80 homemade.
If anyone like contact me, can write on QRZ.
I am associated to ITALIAN RADIO AMATEUR CLUB too, and can send QSL or if like, direct.
Many thanks for your patience, have a good DX.
73 CIAO.
---
---
 
"Ringraziamento particolare a Domenico I6HWD per la realizzazzione della QSL"
---
---
Attivazione faro di Termoli

"IK6ERC IK6XEJ IU6AIG IZ6ZCV IZ6WSJ ....YL"
---
Attivazione faro Pedaso

"I6FDJ IK6ERC IK6XEJ IZ6TSG IU6AIG IZ6WSJ IZ6ZCV

"
---
---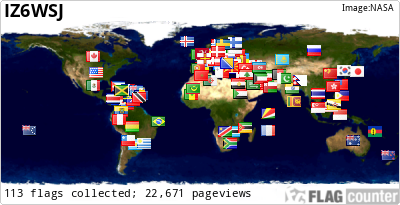 title="Click to add Solar-Terrestrial Data to your website!">