Thanks for visiting   

JA3NCL Page
*******************************************************************************************************
Hello everybody!
Sumitoshi My name is(Toshi)
It was bom February 7.1949
I am retired March 2009
I am enjoying the free time
Amateur radio was beginning fom 1967
QRV Band 3.5.7.14.18.21.28.50.144.430MHz
Mode SSB.CW.Digital(JT65/WSJT/PSK31/RTTY/SSTV)
VOIP EchoLink(JA3NCL-L).WiRES-X(13150)
D-STAR(REF 047C,071C,XRF085B,071B). C4FMFusion Reflector FCS001 21
APRS JA3NCL-2,JA3NCL-7,JA3NCL-9,JA3NCL-10
​I manage the club Stasion(Mahoroba JL3ZEO)
I want to commuicate with you 73
https://www.facebook.com/JA3NCL
twitter Sumitoshi Kataoka JA3NCL
There is a famous historical temple of Horyuji my QTH, it is local to Nara
WIRES QSL
WiRES-X QSL
QSL card
QSL of amateur station Start (1967)
HF ANT (3.5,7.14.18.21.28MHz)IV&VU ANT144.430MHzGP)

I work hard in this antenna. It is very poor.
IT is the VOIP & Digital Mode equipment of these systemsYAESU:FT767GXX 100W,FTDX5000 200W,FTM400D 50W,FT7900 20W,FT1D 5W,VX8G 5WKENWOOD: TMD710 20W,ICOM:ID51 5W
This photo is a 45-year-old Shack & ANT
24 or about 25 years of age . Radio activity best days. 
And my family
This is my family. It is a commemorative photo in June gum Island 2014
Young memories local antenna configuration. This is me at the top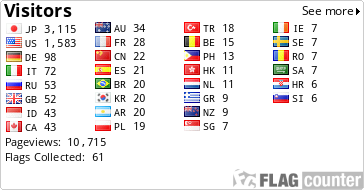 Thank you for looking until the end