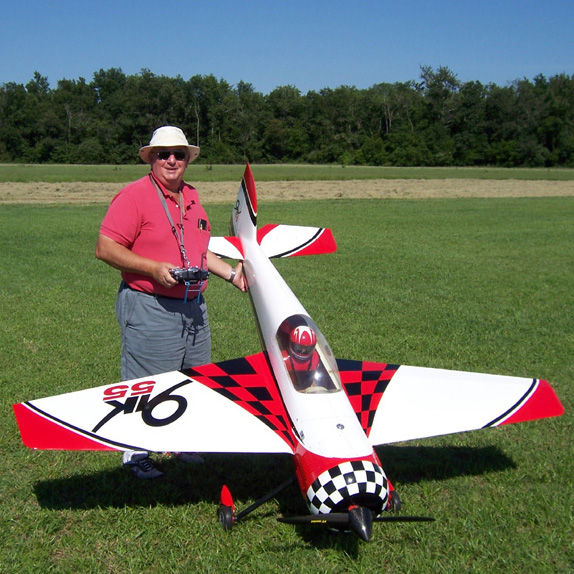 It is very apparent that I really enjoy flying. Over the years I have owned four full scale planes and flown almost all of Canada, Alaska, United States, Bahamas, and West Indies. Unfortunately I lost my physical due to a heart condition about 14 years ago.  I then started my move to giant scale RC airplanes both gas and turbine.
I became a ham in 2010 and I only operated on UHF/VHF in my automobile until December 2015. I then decided to give the HF bands a try and I am now operating on a Flex 6700. I also operate two Yaesu FTM-400's one my truck and one in my home for UHF/VHF communication.
My hand held is an ICOM ID-51 for UHF/VHF/D-STAR.
My amplifier is the solid state SPE Expert Linear 2K-FA which works perfectly with my Flex radio.
At first I was able to borrow a Buckmaster 7 band antenna from a good friend and amateur radio operator W4THA. I installed it the week (12/20/2015) at 30 ft. and started to experiment on the HF bands. " I LOVE HF".
After returning the Buckmaster to W4THA I purchased the 7 band OCF Buckmaster dipole in the 3000 watt version and configured it as an inverted "V"  with the legs at 60 ft. and the peak at 100 ft. This antenna runs North/South. Thank goodness for the very tall southern pine trees here in South Carolina. I live in an HOA area and it is very well hidden.
We recently added a slopper for160 meters that is 143 ft. long running from the ground to 75 ft. The design of this antenna came from Balun Designs and it works surprisingly well.
I also have a Wellbrook Magnetic Loop antenna for receive only. This antenna has a very quiet 9db preamp and is mounted very close to the ground. This loop works great when using antenna diversity on my Flex 6700. We do use a rotor on this loop since it is bye directional.
All of my HF antennas are using LMR400 coax including the magnetic loop.
My latest UHF/VHF antenna is the Diamond X700HNA Dualband Base/Repeater Antenna mounted on top of a 30 ft. tilt able mast making the total antenna height 54 feet. I am fortunate that I live at a high elevation of 430 ft. in central South Carolina. I decided to use a flexible hard line to feed this antenna with a 100 ft. run of cable. The cable I used is from Eupen Model EC4.5-50. The loss at 100 ft. and 450 MHz is only 1.00 db/100ft. It was actually easy to install with no special tools required to install the coax adapters. Here is a link to the Data Sheet if you care to look. https://www.eupen.us/docs/EC4_5-50-ver-11-13.pdf
Other Equipment Includes:
3 each Tripp Lite 1500 pure sign wave UPS's.
3 each Yaesu FP-1030A power supplies.
Heil Pr 40 Microphone for Flex.
Heil Gold Elite for FTM-400 UHF/VHF.
Heil Pro7 for Flex Radio.
3 each Palstar SP30H speakers. 2 for Flex and 1 for FTM-400.
Down East Microwave 2MLDPA amplifier.
Yamaha AU672 audio amplifier.
Yaesu G-800DXA rotor.
I am married to my lovely wife Marie from Lake City SC for over 50 years. We have two lovely daughters Robin and Krish. Robin and her husband Durant have two children Justin and London.  Krish and her husband PJ have two children Ryan and Ella.  No greats yet but hopefully in the future.  Just side notes, none of them have any interest in either Ham Radio or RC Airplanes. They have no idea what they are missing especially the grandsons.
Facebook Page: David Livingston
​http://www.simplyconnected.com
​k4cae@att.net
(803) 446-8870 - Mobile
Much more later… Thanks for looking
********************************************************
My other Hobbies over 73 years and many second childhoods include:
RC Models both Fixed Wing and Helicopters
Golf - (really enjoy golf)
Salt Water Fishing
Skiing - both Water and Snow.
Traveling with Family and Friends