THE FINAL COURTESY OF A QSO is a QSL!!
QSL's may be sent via the Bureau, LOTW, or direct. All QSL's will be responded to. SWL reports are welcomed.
Don't have a LoTW account?
Visit www.arrl.org/lotw to get started.
It's easy and it's free.
Please feel free to ADD YOUR CALLSIGN to my "Web" tab above. Thanks!
10X-31329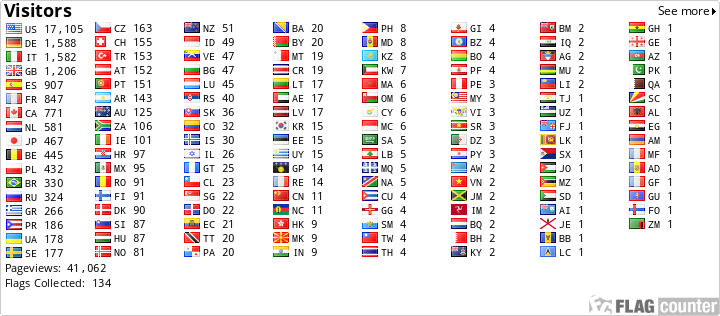 6886770 Last modified: 2015-11-27 20:57:24, 35728 bytes
Login Required

Login is required for additional detail.
You must be logged in to file a report on this page
Public Logbook data is temporarily not available for this user
United States Counties Award

#4016


Granted: 2016-08-12 17:26:02 (KA1ERL)



Endorsements:

250 Counties Mixed

500 Counties Mixed

100 Counties Mixed

250 Counties Mixed

500 Counties Mixed

World Continents Award

#11323


Granted: 2015-11-27 20:05:03 (KA1ERL)



Endorsements:

5 Band Mixed

10 Meters Mixed




12 Meters Mixed




15 Meters Mixed




17 Meters Mixed




20 Meters Mixed




30 Meters Mixed




40 Meters Mixed




Grid Squared Award

#9912


Granted: 2015-11-27 20:05:03 (KA1ERL)



Endorsements:

5 Band Mixed

10 Meters Mixed




12 Meters Mixed




15 Meters Mixed




17 Meters Mixed




20 Meters Mixed




30 Meters Mixed




40 Meters Mixed




80 Meters Mixed




DX World Award

#2921


Granted: 2015-11-27 20:05:02 (KA1ERL)



Endorsements:

15 Meters Mixed

20 Meters Mixed

40 Meters Mixed

United States Award

#1631


Granted: 2015-11-27 20:05:02 (KA1ERL)



Endorsements:

15 Meters Mixed

20 Meters Mixed