CHECK OUT MY YOUTUBE VIDEOS                                     

                          I AM ON JOE WALSH YOUTUBE CHANNEL CLICK ABOVE                                         JOE WALSH SIGNED MY HEIL MIKE
                                                                
                                              MEETING UP WITH ZZ TOP                                                    GENE SIMMONS - KIZZ
               

                                                                                 WILLIAM SHATNER - CAPTAIN KIRK

                                                                                                       
                               HENRY WINKLER - THE FONZ                                                          CHRISTOPHER LLOYD - BACK TO THE FUTURE

                                                                        I TOOK A SELFIE OF ME                           TALKING TO THE WITCH DOCTOR
                                                                                                                                        ABOUT BRINGING BACK THE DX
                                           

                Loren Coleman                  Joe Wooten (steve miller band)         Smith and Wesson .500                    MY UZI AND MAC 10

                                      FRANKIE VALLI                   JUDGE REINHOLD-BEVERLY HILLS COP                    JEFF FOXWORTHY

                                          Martina McBride                    Dave Perewitz ( The best damn motorcycle builder )
        HANGING WITH ONE OF MY FAVORITE BANDS CHICAGO  2016                                                CHICAGO 2017
            
                                                             HERE I AM 13 YEARS OLD AT MY FIRST FIELD DAY AT TURKEY HILL 1981
                                                                  I started out in cb when I was 11 and then I moved to another town
                                            where I met my friend bob ka1dza (my elmer),who convinced and helped me get my novice ticket in 1981,
                                            got my general 1 year later passing it at the fcc office in boston, Then finally got my extra ticket.
I AM AN ETA INTERNATIONAL MEMBER

I have my AMATEUR EXTRA CLASS license and passed the 20 WPM CODE
i am a CERTIFIED ELECTRONIC TECHNICIAN (CET)
A MOTOROLA CERTIFIED JOURNEYMAN TECHNICIAN (USMSS)
A CERTIFIED JOURNEYMAN ELECTRONIC TECH WC TRN
A SENIOR WIRELESS COMMUNICATIONS ELECTRONICS TECHNICIAN
I HAVE THE GENERAL RADIO OPERATORS LICENCE (GROL)
I also have my GMRS license ( WQLJ332 )
  I am a volunteer Examineer,I believe in giving back to a hobby that i love.
I was in the ARMY for 8 years , 4 of those years I lived in germany,
While living in germany I had the call sign DA1CS.
I miss all my friends there, they treated me like family, especially
my friends Jurgen DL1NBR and Otto DK2DU (SK)

    

                            My signed qsl card from Tim Allen                           SEAN ASTIN - LORD OF TH RINGS SAM / GOONIES/ RUDY
               KING RICHARDS FAIRE                       Josh Turner                   FALCOR -BAVARIAN FILM STUDIO

                                                                                 Trace Adkins
  CHECK OUT MY HOMEPAGE ->>> www.qsl.net/ka1jbe
                                                             
                                                             
I am real lucky,I love the hobby and fix two-way equipment as a job for 25 years
Email me at ka1jbe@hotmail.com with comments or questions..
If your a station dx or stateside that needs massachusetts,
I will be glad to setup a sked with you.
       
                                              ME AND TED NUGENT      

                                              Ron White.......a funny bastard                  Steve Holy - check out his music
   
                                 operating at the ARRL HQ's                      Paul Servino - Goodfellas "FORGET ABOUT IT"
                Below i am at the hof border in checkoslavakia      HERE I AM LOOKING DOWN FROM FENWAYS ROOF

                                        Lou Ferigno  ( The Hulk)                                REO SPEEDWAGON
                                        
                                                                                                                                        
   
                                                                            
                                                                               THE SONS OF ANARCHY
    
                                                          THEO ROSSI                                                           KIM COATES

                              KIM COATES                              MARK BOONE                                   RON PERLEMAN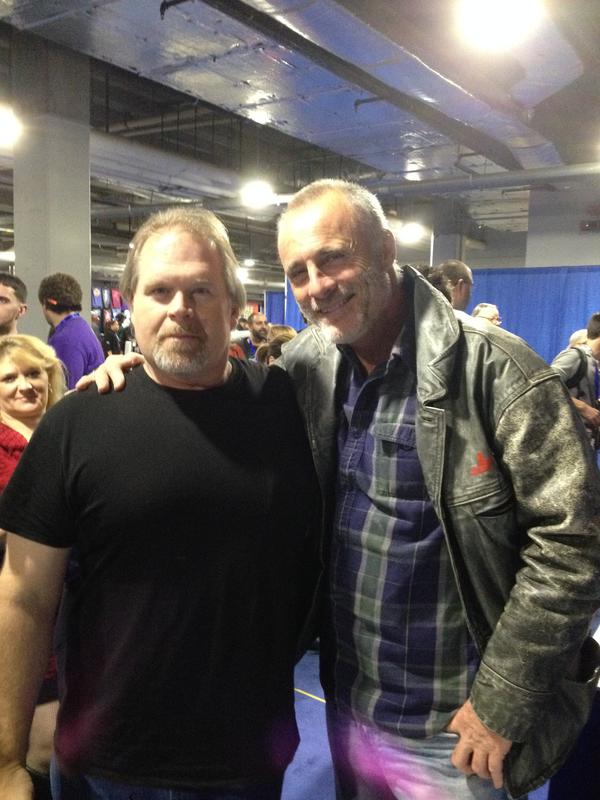 AMILIO REVERA                         RYAN HURST                  TIM MURPHY        

                         Billy Zabka (Johnny) me Ralph Macchio (Daniel)                              MEATLOAF
                                                 THE  KARATE  KID      
                                                                                                                                                                                       
                           MARK GODDARD ( LOST IN SPACE)                                   BURT WARD AND ADAM WEST (ROBIN AND BATMAN)   
                                                                   

                                             BARRY WILLIAMS (GREG BRADY)                   BARBERA EDEN ( I DREAM OF GENIE)

                                            

                                             SAM JONES (FLASH GORDON)                                    C. THOMAS HOWELL  

                                                                       

                                                                               George Thorogood - BAD TO THE BONE !

                                                        

                                                                                               Air Supply
                                                 CLICK ON THE  CERTIFICATES BELOW TO SEE THEM