Hello,
I was first licensed as a technician class amateur operator in 1997. I dropped out for a while to become a dad. I started back with ham radio as my son was working on his Radio Merit badge for the Boy Scouts in 2010. The bug had bitten me again along with my son. The picture below shows my son and I at the local Boy Scout ham shack working in a contest. As of January 2011 I advance to general class and my son received his technician license in April 2011. I set up my first HFstation(Kenwood TS-590S & G5RV)in August 2011. Added the computer to the mix with Ham Radio Deluxe In October 2011. Started digital modes late December 2011. Started using Log of the World January 2012. Installed my Force 12 C3SS beam November 2012. This is a great hobby! I have met many people on the air and in person due to ham radio. I hope to help future hams get their start in the hobby.
73
Robert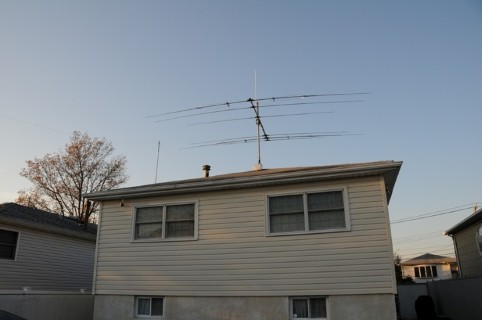 Large Visitor Globe
6757109 Last modified: 2015-10-04 20:01:58, 2257 bytes
Login Required

Login is required for additional detail.
You must be logged in to file a report on this page
Public Logbook data is temporarily not available for this user
United States Counties Award

#8


Granted: 2016-07-18 21:23:24 (KC2BBI)



Endorsements:

100 Counties Digital

100 Counties Mixed

250 Counties Mixed

500 Counties Mixed

100 Counties Phone

250 Counties Phone

Grid Squared Award

#1459


Granted: 2015-01-26 01:35:32 (KC2BBI)



Endorsements:

10 Meters Mixed

15 Meters Mixed

20 Meters Mixed

40 Meters Mixed

10 Meters Phone

15 Meters Phone

20 Meters Phone

40 Meters Phone

15 Meters Digital

20 Meters Digital

40 Meters Digital

United States Award

#385


Granted: 2015-01-26 01:35:24 (KC2BBI)



Endorsements:

World Continents Award

#1593


Granted: 2015-01-26 01:35:18 (KC2BBI)



Endorsements:

10 Meters Digital

15 Meters Digital

17 Meters Digital

20 Meters Digital

10 Meters Mixed

15 Meters Mixed

17 Meters Mixed

20 Meters Mixed

10 Meters Phone

15 Meters Phone

20 Meters Phone

DX World Award

#315


Granted: 2015-01-23 01:36:40 (KC2BBI)



Endorsements:

10 Meters Mixed

15 Meters Mixed

20 Meters Mixed

20 Meters Phone

Mixed Phone