PLEASE READ QSL INFO BEFORE SENDING ME QSL CARD. 
I AM NOT USING QRZ.COM LOG  ANYMORE. 
​THE 3 EL STEPP IR ON PICTURE, IS ONLY  BACK UP NOW, NOT IN USE.
​ ONLY USING QUAD ANTENNA WHEN ACTIVE.
NO IRC PLEASE, MY LOCAL POST  WILL NOT HAVE THEM ANYMORE.
3 USD  AND A ENVELOPE WITH YOUR ADRESS IS THE ONLY WAY I SEND CARDS DIRECT,
I PREFERE CARDS VIA BURO.
My radio Ten Tec Orion2
Icom  7300 my newest radio.
Amplifier  Acom 2000 A
Antenna 4 element Cubical Quad 10-12-15-17-20m, 10m  boom.
Antenna made by Cubex in USA.
Rotor Yaesu G-2800 DXC
Tower 18m
Back up Station Kenwood TS-870
Amplifier Drake L7   1KW.
Antenna tuner Drake MN-2700
Antenna 3 element stepp ir
Rotor Yaesu G-650 C.
tower 18m
In mobile Icom 706 mrk2g
Icom AH-4 Auto tuner
Antenna in car ,Hamsticks.
Low bands 80M full size loop, 15m high..
160m no antennas at the moment.
2m ,not very active, ant Diamond 510 2m/70cm.
Winther is also a beautiful season ,this picture was taken a very cold day in december 2015.
73 de LA4UOA  Torgeir  ( TOR)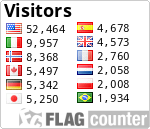 Large Visitor Globe