QSL VIA
DAVID LIANEZ FERNANDEZ
P.O.BOX 163
21080 HUELVA
Spain
If you see my callsign with an abusive spot on the cluster network this will .... not be me !!
Thank you for looking me up
active SSB and RTTY mainly with some CW PSK 160m to 2m with an Nov for 60m Jan 10 2013
using Icom Pro3 various SDRs Maclogger DX
PAs:- Expert 1KFA or Acom 1000 other various
Antennas 
6 ele quad 2m , 4 ele LFA 4m, various 6m yagis upto 18 elements
HF :- 10 to 20m A4S & A3WS KT36XA  4 ele Steppir & multiple 10m yagis upto 24 elements
DB36 & MonstIR( yet to go up)
30/40/60/80m vericals 
inv V on 40 & 80m
4 squares on 80/40m, Bobtail 4 ele 40m
160m full loop
27 04 16 Active JT65 on 80m with a vertical & 100 radials, after a full overhaul of the antenna and radial system on the 29th the power is now 5w to 20w for DX dont know if thats to much but it works :)
WAB SH33
QTH 150m ASL NW Wales
local pic looking east to Snowdonia National Park
local pic looking south over St Tudwal's Islands EU-106
Looking west towards Bardsey Island EU-124
Bardsey Island EU-124
looking east from the end of the Llyn Peninsular
10M quad old QTH IO83jb 2009 looking west
10m antennas spaced 6.2m 
2 x 4 ele (rotatable) and ZX 5 ele (fixed to NA) for 10m, stacked with WX0B Stack Match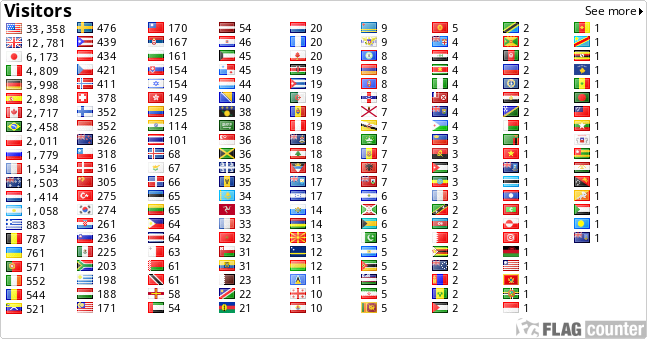 Get Your Own Visitor Globe!