Dear visitor,                                                                                 
Here you will find some information about my station.
I use for HF a Kenwood TS-990s.
For my audio I use a

RODE Broadcast Studio Microphone

with a Symetrix 528E Voice Processor.
The antenna for HF is Fritzel FB-DO 450 antenna at 39 ft (12 meter) and longwire of 25 meters (82ft)  6 meter (19ft) abof the ground with a smart tuner JC-4 from

www.stockcorner.nl
50Mhz i'm using E Antenna 50LFA4
for VHF/UHF I'm using a Icom IC-9100 with 2M Yagi 5 ellement and 70cm 10 ellement 
A little about me,
My name is Bart am 49 years and licensed radio amateur since 1997.
Professionally I am a firefighter at the Fire Department of te city Turnhout.
I hope to work you on one of the HF bands. 
73,
My QSL: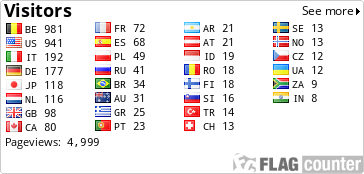 script tags are not allowed. All picures and information are private, you need permission from the owner to use.
8274765 Last modified: 2017-08-15 18:58:40, 5518 bytes
Login Required

Login is required for additional detail.
You must be logged in to file a report on this page
Public Logbook data is temporarily not available for this user