Click on top picture to enlarge
                             Thank you for visiting this page.                 It is still under construction / revisal .
                             Obrigado por visitar esta página.                   Continua sob revisão / construcão                       
At the end of this Biography you may see a small history of this callsign dating from aprox. 1929. Since 2014 I am the second owner of this fine call - OZ1D.   My name is  Chris.   Nice to meet you  !
​                                                                                                THE  VIKINGS
 ​The Vikings surged in the Scandinavian countries around the year 700 AC and vanished around 1100 AC.  They were very fine shipbuilders and became ocean-going traders in many countries.  But, they were also fierce  ocean-going warriors, terrifying many people around Europe.  They were apparently the only people capable of long-haul voyages in those days, without sucumbing to the sickness of Scorbut.  More due to practical habits than to real knowledge, probably.  They loved eating Oysters with raw onions, thus retaining a high level of C-vitamins against the Scorbut, which killed most long trip sailors.  Many traces have been found confirming the presence of Vikings so far away as Greenland, Canada and 'Wineland' (north-eastern coast of USA).  Their ships were very able, fast, ocean-going wooden ships, both fit for the high-seas, as well as for very shallow waters on most European and Russian rivers.  Each fighter vessel could take up to 70 warriors, sailing with good winds and rowing with no winds. In many occasions the Vikings were able to - within very short notice -  to muster up to 200 vessels with a total of some 14.000 warriors.  No wonder why they were so frightening.  Those who stayed at home took care of planting, harvesting and breeding cattle and pigs, and building ships, also for merchandise and people transportation.
Backside of QSL card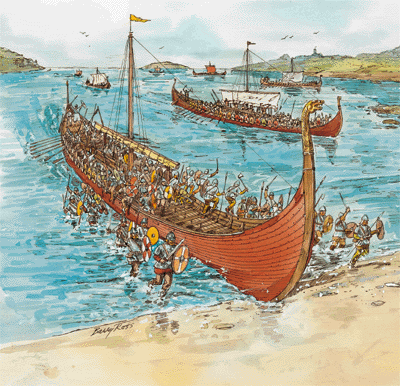 ​                        
​                         
The Vikings originated in Scandinavia aprox. 700 AC         Somewhere around 1.000 years ago       Old fighter Vikings and Newer defence Vikings     The Viking  Museum in                                                                    ​     ​                                                                                                                                                                             Roskilde - Denmark
                                                                                                                                                                                                                             ​​Really worth a visit during summer  
             ​                      
           At the Roskilde Viking Museum        Museum's Viking ship builders         Ship building materials                         The Sea Stallion in Scotland 2007      
​             
​              
           ​With NO wind - hard muscle work    With strong wind - up to 15 knobs      Rune stone - carved viking letters         Another ornamented Rune stone                            
​
​              
Construction drawings                    Construction details                                     Construction details                                       Wind - turning details
Rough weather situation                 The Sea Stallion off coast of Scotland 2007   Upon leaving Roskilde - Denmark   Arriving at port of  Korsor - Denmark  Training young people for rowing
Details                                             Details                                                          'Modern'  Viking kitchen                   Wooden box with Emergency equipment             Ship's details
​               
Details                                           Details                                                            Young visitor lifting the heavy oar
The Viking Fighter sleeping in winter dress
Short history of the Danish callsign  OZ1D.                              
​     
​     
    Ahrendts QSL card 1927-29     QSL card from 1929-aprox. 1935     card from aprox. 1935              OZ1D Ahrendt 1939               His QSL card 1970-1994 (SK)
​                                               Before 1929 the European callsigns all started with an E - for Europe;   and the D was Denmark, G was Great Britain, etc.
​                                                                         3 years after the Founding of IARU, - in 1928 Ahrendt had already Worked All Continents
​           In 1935 Ahrendt - OZ1D - was representing Denmark as Co-Founder of NRAU - The Nordic Radio Amateur Union, Scandinavian organization still very active today.
It is a great honour for me on Oct. 21, 2014 to have received this very special call - - - Oscar Zulu One Denmark.   I am also OZ1HHH and PY2ZZZ, previously C5AC and PY2ZDC,   responsible for PY9ØIARU and a few other calls.
When new callsigns were introduced in Denmark around the year 1929, this one was assigned to Fritz Johan Ahrent Flensborg, later in life a good friend of me and my family, on the radio mostly calling himself  'John', but by me as Ahrent.   Already early in the 1920's Ahrent was pioneering the bands world wide in his very young days, with his previous Danish callsign  ED7AB, in those days the ED meant 'Europe Denmark', that prefix later being given to Spain.  He operated from this very same little town Ringsted (EU-029), during all his long and very active life.   His first callsign was from the time before the International Amateur Radio Union - IARU was created at the International Radio Congress in Paris in April 1925, when 25 nations, including Denmark, participated.  So the OZ1D-call belonged to only one very dedicated Ham for almost 75 years in a row, from the time Hiram Percy Maxim was the president of  ARRL and in 1925 also of IARU.   During 25 of the 40+ years of my own time working overseas in consular and trade services, as well as import business of my own iniciative , I had the pleasure of almost weekly radio contacts from South America with my friend Ahrent, as well as personal visits to him and his dear wife Inge, during every visit to Denmark. It was a great loss, when 'John'  - on the radio as ED7AB and later OZ1D - went Silent Key in 1994.    His callsign has been resting for 20 years.
It is now my intention to revive his fine call, and I hope, and will do my best, to put it on the air in the same always polite, kind and decent way he will be remembered for.
     Thank you.   Vy 73'  de OZ1D  -  Chris                         By the Way : -   I am also PY2ZZZ - Brazil                               ​Thank you