Hello, I am
and i'm glad that you stopped by... Here is some information about myself 
maybe you might find interresting:
I am operating HF(dx) only - well, let's say 99% to be honest...the remaining 1% fall upon hanging around somewhere in the garden with a cold beer. 
Well...let me say 150% i enjoy the world of DX and ESSB and 300% working LP or nice DX stations....Well thats why i upload sometimes a nice recording ;)
Because.....there is no end to what this hobby offers ;)
Привет, я Александер. Мне нравится работать российских станциях в конкурсе и специальных мероприятий
All QSO logfiles will be uploaded to.......
My Equipment:
Transceiver-1  HF: ICOM IC-7700
Transceiver-2 HF: ICOM IC-756ProIII Line
ESSB: ART MPA-II Tube Pre-amp / ART Voice Channel / Rode Broadcaster Mic
ESSB: Symetrix 551e / Lexicon MX300 / DBX 120a subharmonic synthesizer
Antennas HF: Optibeam OB16-3 & Optibeam OB2-40
Tower: cranks up to 84ft
I support the DX code of conduct.
All QSOs uploaded to LoTW -  DO NOT SEND QSL VIA BURO - NO eQSL
 By post direct qsl with CBA SASE plus 2 IRC,s 
Direct to:
PD9Z, P.O. Box 81, 7440AB, Nijverdal, the Netherlands
Email: Info@PD9Z.com
OR UPLOAD YOUR QSL-CARD NOW!!!!
If you have a recording of our QSO...feel free to upload it also !!!
Antennas HF: Optibeam OB16-3 & Optibeam OB2-40
Below....picture of Optibeams by night with stars!
....And ofcourse a good LPDX friend of mine....Jim W6LG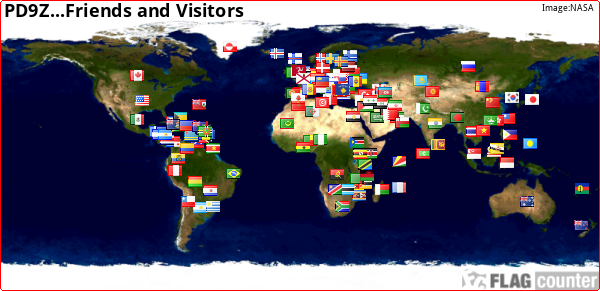 The Delay of the Live stream is about 20sec...so you can hear your own contact with me! 73s

---