Hello my friend.
I have 40 years as an active Amateur Radio. Since 1977.
I'm operating in the bands HF / VHF / UHF all modes.
All the best and I hope to meet you on the bands. 73!
For details about the rigs, antennas and linear amplifiers visit MY WEB SITE: http://sites.google.com/site/qrzpt9ir
E-QSL --->Is very nice. It is Guaranteed, ADIF, printable and fast.
WE ARE IN THE 21ST CENTURY AGE OF ELECTRONIC COMMUNICATION. CROSS BORDER THIS AND BE HAPPY.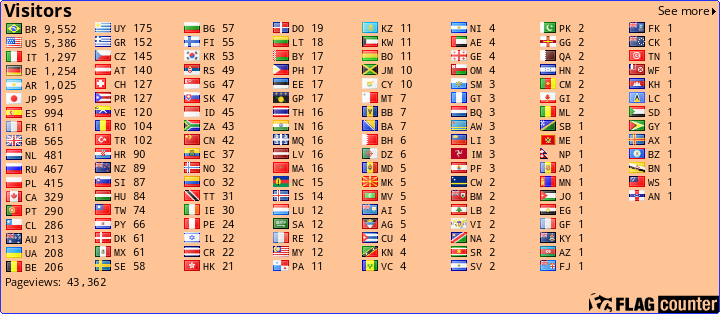 7849913 Last modified: 2017-01-23 00:33:25, 1877 bytes
Login Required

Login is required for additional detail.
You must be logged in to file a report on this page
Public Logbook data is temporarily not available for this user
United States Counties Award

#2048


Granted: 2016-07-20 03:38:03 (PT9IR)



Endorsements:

100 Counties Mixed

250 Counties Mixed

United States Award

#1734


Granted: 2016-01-08 20:55:01 (PT9IR)



Grid Squared Award

#1608


Granted: 2015-01-29 04:31:58 (PT9IR)



Endorsements:

5 Band Mixed

10 Meters Mixed




12 Meters Mixed




15 Meters Mixed




17 Meters Mixed




20 Meters Mixed




40 Meters Mixed




6 Meters Mixed




DX World Award

#555


Granted: 2015-01-29 04:31:53 (PT9IR)



Endorsements:

World Continents Award

#1756


Granted: 2015-01-29 04:31:44 (PT9IR)



Endorsements:

5 Band Mixed

10 Meters Mixed




12 Meters Mixed




15 Meters Mixed




17 Meters Mixed




20 Meters Mixed




40 Meters Mixed




6 Meters Mixed