Thank you for visiting my page QRZ.COM
My name is Carlos, I live in the state of Sao Paulo, in a small town - LINS with approximately 72,000 inhabitants, 450km northwest of the capital city, work in the area of Health - Health Surveillance, initiated in 2000 my activities on radio on 11 meters as - PX2L-8071, and participated in several international groups of DX, RP-FAT-SD and confirmed 158 DXCC. In January 2010 I got my amateur radio callsign PU2SDW, really like DX, and allowed to work in the bands 2, 6,10, 12, 15  meters.The card Qsl for me is very important, so it is not necessary for any kind of contribution, and will have 100% return on Qsl card, if not received please send e-mail.
Meu nome é Carlos, resido no estado de Sao Paulo, em uma pequena cidade - LINS com aproximadamente 72.000 habitantes, 450 km a noroeste da capital, trabalho na area da Saude - Vigilancia Sanitaria, iniciei em 2000 minhas atividades no radio em 11 metros - como PX2L-8071, e participei de varios grupos internacionais de DX, RP-FAT-SD e tenho cofirmado 158 DXCC. Em janeiro de 2010 recebi o indicativo PU2SDW, realmente adoro DX, estou nas faixas 2, 6,10, 12, 15 metros, autorizadas pela classe C.O cartao QSL é muito importante para mim, por isso nao é necessario enviar qualquer tipo de contribuiçao, retorno 100% o seu cartao QSL, se nao receber por favor me envie um e-mail.

EQUIPMENT
ICOM IC - 746 PRO
YAESU FT- 950
MD-100 MICROPHONE
HEIL PRO-SET ELITE HC-6
ICOM IC - 2200H
ICOM IC - V8
VERTEX VX - 150
COBRA 148 GTL
SIGNALINK USB - DIGITAL MODES
STABILIZED SOURCE 30AMP - SOUNDY
STABILIZED SOURCE 30AMP - KELETRON
SWR & POWER METER - DAIWA : CN-101L
CUBICAL QUAD 3 ELEMENT ELECTRIL FOR 10 METER
DIPOLO - MORGAIN 80 / 40
5/8 WAVE VERTICAL 2 METER
ROTOR HAM IV
ANOTHER HOBBY IS LISTENING RADIO, MY INDICATIVE It PY2265SWL CALLSIGN, USING A
N OLD RADIO PHILCO - TRANSGLOBE ALL TRANSISTOR - B470, BANDS OF 8 .
Meu outro hobby - radio escuta, PY2265SWL, usando um antigo radio PHILCO - Transglobe TRANSISTOR ALL - B470, de 8 bandas.


?
Large Visitor Globe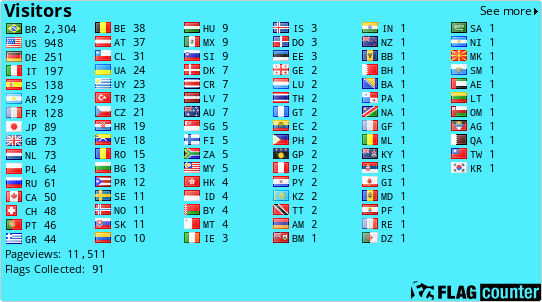 �
�
�
�
�