I AND MY XYL

      
What do people think when I tell them that I am from Russia
                                                                                    Club member,s :
KDR#424; AGB#153; RCC#64; BSCC#387; DIG#6226; ARCK#170; TRC#005, WWYC#459
MY EX  CALL:
RV9LM

(2006-2014),

RP69MM

(may 2014 г.),

6Y9LM

(NOV.2009), UA9LAU (2000-2006), RK9LWO (1998-2003)
19 YEARS ON THE AIR - 1998-2017  
QSL MANAGER : RV9LM , UA9LAU , 6Y9LM and RX9LW  ( My Father SK 01.08.2011 )
ANTENNA  SAY 4-12  (Analog OptiBeam 12-4)
2 el.-40m; 3el.-20m; 3el.-15m; 4el.-10m
I was born in the city of Tyumen in 1988 (USSR)
Tyumen oblast
Territory – 1464,2 km2
The length from North to South and 2100 km, from West to East – 1400 km
It is washed by the Kara sea
It borders Kazakhstan, Komi Republic, Krasnoyarsk region, Sverdlovsk, Kurgan, Omsk, Tomsk, Arkhangelsk blastomylonite.
The climate of the Tyumen region is continental. It is characterized by severe and long winter (32 weeks g, the tundra, 21 weeks in the forest), short and cold summer PA the North and warm in the South, the mid-seasons (6-7 weeks) late spring and early autumn frosts. On some days almost every year the night temperature drops to -36°to -44°C in the southern part of the region. In the coldest winter the temperature can drop to -52°and -63°C in the North to -47°and -51°C in the South region
.

I started being fond of radio with the childhood. The first radio communication I established in 1998, collective (club) to call signs on the 160th meter range by a microphone. This moment was very much remembered. My first communication was under supervision of my father. In 10 years (in 2000) I received the first call sign - he was from the old UA9LAU series. in 2006 I passed examination for the highest category (thanks to my teacher of the Morse alphabet - to Andrey Gavrin of RU9LA, to the Master of Sports in high-speed telegraphy) and my dream came true - there was an opportunity to replace a call sign on 5-place and all ranges for work opened. The following my call sign was RV9LM. in 2009 by Dear David KY1V's invitation I and my friends from three countries was invited on to participate in the international competitions CQWWCW. It was the unexpected invitation! (thanks to David KY1V and his spouse, and also Krasi of K1LZ) is there was my first trip the abroad and besides it was connected with my favourite hobby. We flied to win! Also took the 2nd place in the World, 1 in America, our call sign was 6Y1V. Also David gave us a prityany gift - I received the personal Jamaican call sign 6Y9LM.
In 2011 I was called up for military service and I wasn't on air the whole year. 
in 2014, with new reform of call signs. I after all was solved on replacement of a call sign by the truncated. Now my signal R9LM.
Also 2014 by the invitation of the Tyumen radio fans managed to fly to expedition to Greece. Where we activated very rare reserves.
To be continued..! To a meeting on air!
 

Father had a call from the Krivoy Rog, Ukraine USSR, Ex: UB5ECQ, UB4ET, UR4ET until 1990, in 1998 he received a Russian call RX9LW  SK 01.08.2011
IN foto, my Father    SK..
My History 
FOTO 1990 Ukrainian Soviet Socialist Republic, home dad for homemade transceiver UW3DI.
i pictured
Foto 2000 EX UA9LAU (2000-2006)
Foto 2005
Foto 2009

CQ WW CW Jamaica  BIG TNX:     KY1V (David) , KY1V XYL (Stasy),  K1LZ (Krassimir), R9DX (Wadim), RU9LA (Andy), G4BUO (Dave), G3LET (Peter), RV9LF (Vlad)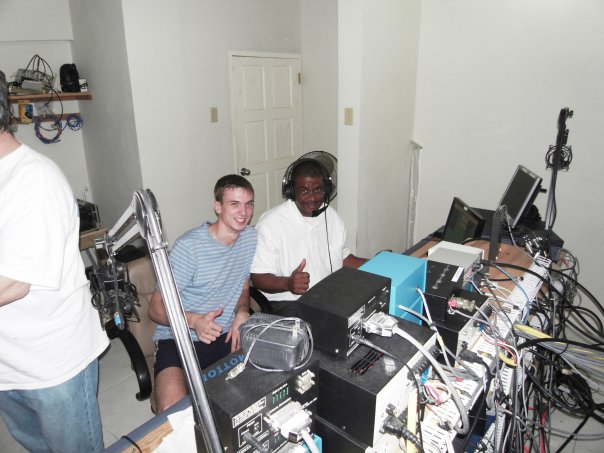 Foto 2010 Moscow WRTC      CLUSCTER 206
2011 Army
My New Shack   August 2015
world championship in winter swimming. in my city
​
2014 October   Expedition in Grecce SW44FF  (SW8SW)
2016 in 2016 I work in the Arctic
view of the northwest  (old shack 1998-08.2015) and RIG:
Holy feast for all my people! May 9 - a holiday of victory of the Red Army and the Soviet people over Nazi Germany in the Great Patriotic War of 1941-1945.