Hi, my name is Maria and i live with my family in Alexandroupolis city,in North Greece, Evros.
I have three wonderful kids, one daughter and two sons !!!
I am Radio Amateur since September 2015.
 My husband is also a Radio Amateur  SV7RIB  !!!
           DIPLOMA  -  Light-                                 https://en.wikipedia.org/wiki/Kruzenshtern_(ship)                                RUSSIAN EDUCATIONAL SAILING -MIR-       
   https://en.wikipedia.org/wiki/Russian_ship_Caesar_Kunikov_(BDK-64)
           C-130                APACHE                                                F-16-ZEYS-
DXCC #180# MOUNT ATHOS
MY QSL CARD WITH  SV2ASP/A  -MONK APOLLO- The Holy Community licence to operate from the Holy Mountain
My HF antenna is a 43m wire in a perimeter making a loop and my antenna for the VHF-UHF is an X-300  X-510.
I am active on VHF, UHF, HF 160m-80m-40m-20m-17m-15m-12m-10m-6m-2m-70cm!!!!
Also i am trying to learn CW because this sounds like melodies and i love it  !!!!
My transceiver HF is an ICOM IC-7100 and an ICOM IC-728 with antenna tuner AH-3, my VHF-UHF transceiver is an KENWOOD D-700 and an KENWOOD V-7.
                   MY 1st AWARD                   
                           --for the 13th ANTARCTIC ACTIVITY WEEK 2016--                         
иплом - DIPLOMA "Fighter Aviation 100 years" of RUSSIA -5th OCEAN  
                         Взлет-TAKE OFF-Η ΑΠΟΓΕΙΩΣΗ                                                                          АН-225 Мрия                                                                                       АН-124 Руслан                                                    ТУ-160 Белый Лебедь - TU-160 White Swan
                          -Aerobatic TEAM  Russians KNIGHTS                                                                       5th OCEAN                                                                           East - for the first time !!!                                                        5th OCEAN -R.A.F.A-
                          IN MEMORY OF CHERNOBYL AVIATION                                                                    BIG SKY                                                                        Будем жить! -Θα ζήσουμε !                                       85 years BTA
                       -AN-22 Antei-                                           AN-12 Heavenly                                 IL-14   The Arctic journey                                                  Tu-16 Badger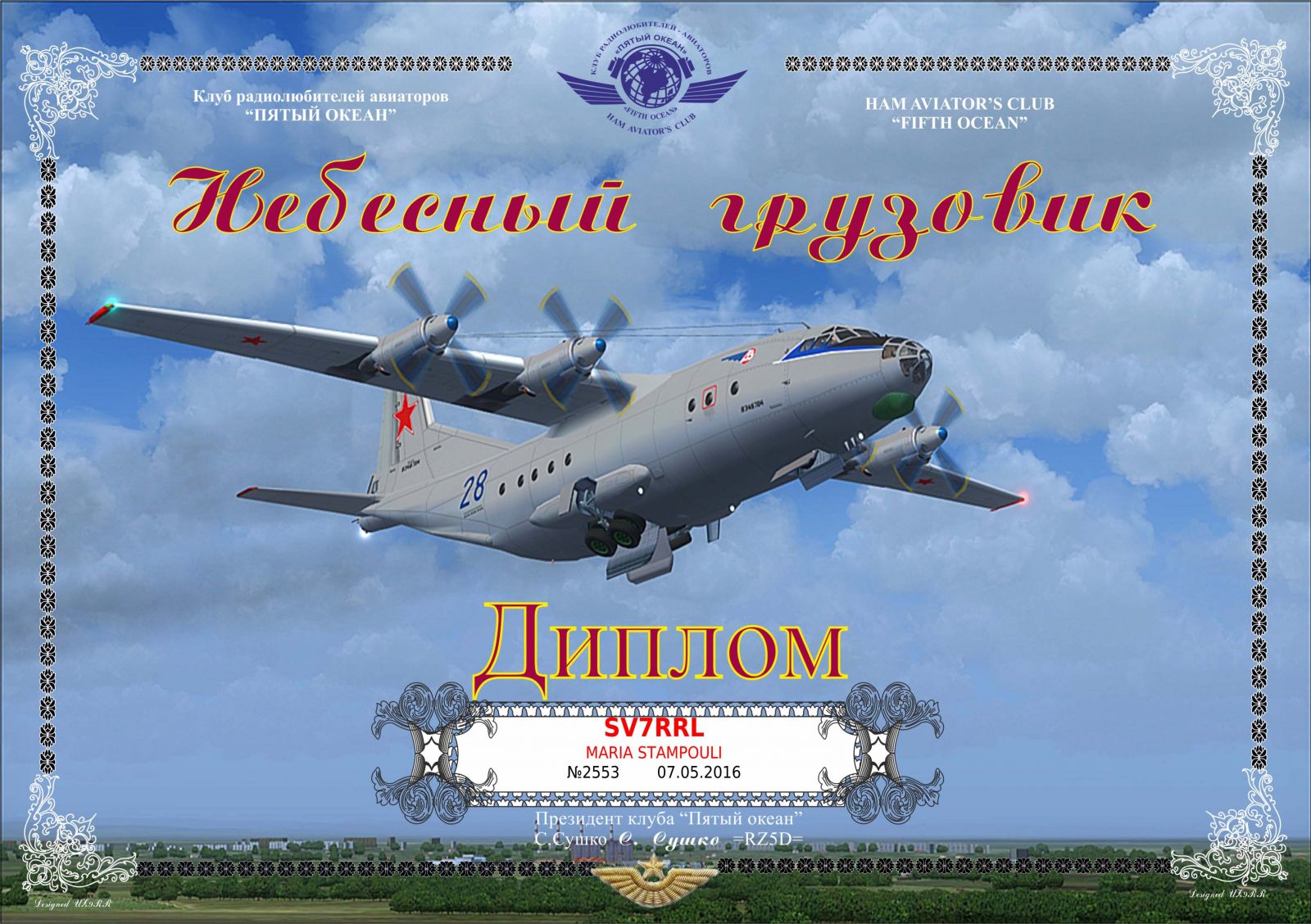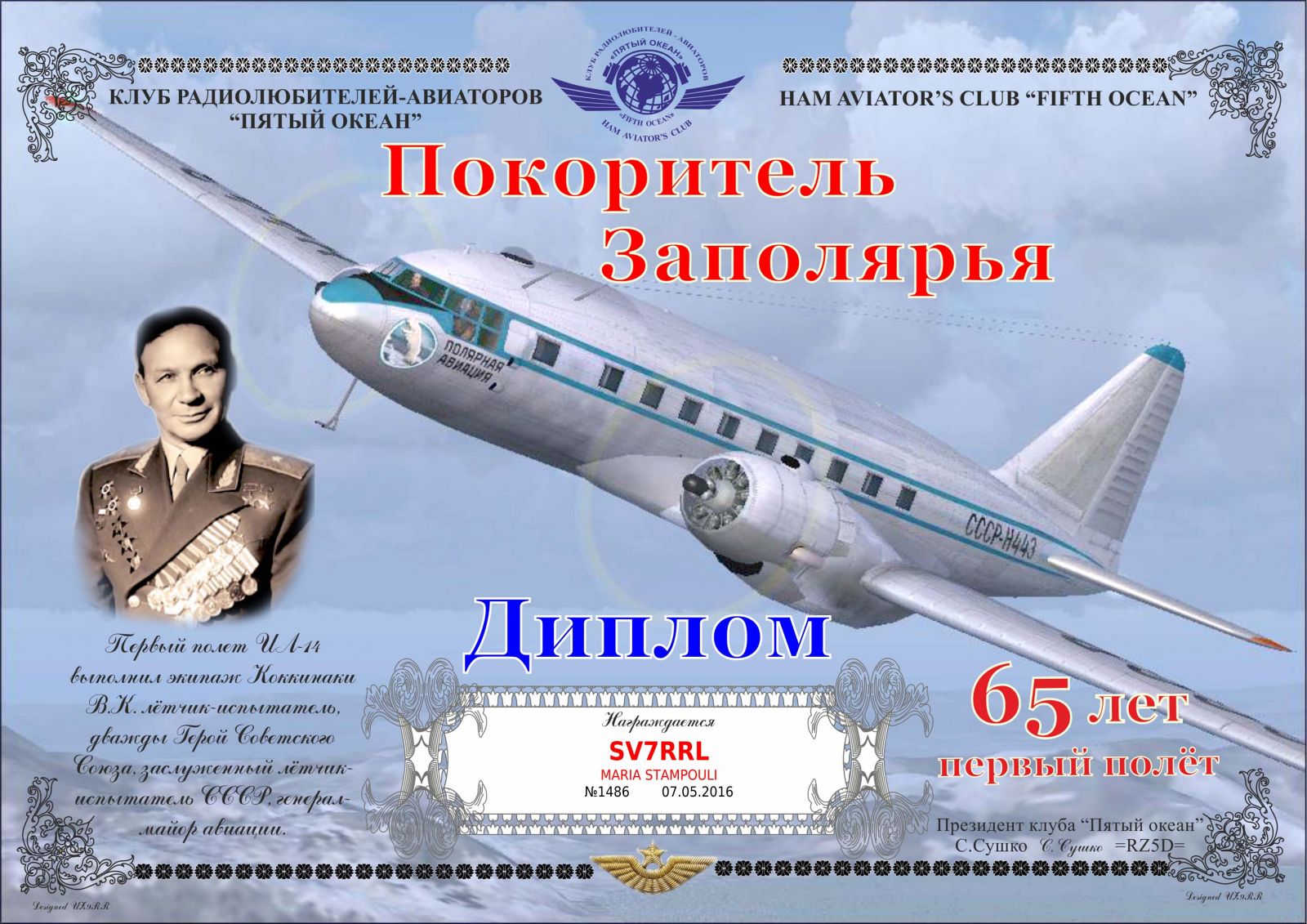 TU-95                                                           -AN-2 SKY Worker-                                                 -IL-28 Beagle-                                             Air Cabby LI-2      
                  -PVO Aviation-                                            100 years warplanes                                                -Helicopter Aviation -                                                    link
                            Alexander Yakovlev                                          110 Years Antonov                                      Alex Maresiev                                           feat Gastello
                     Navigation Service                        85 years of the Polar Aviation          100 years of Naval Aviation- (kuznetsov aircraft carrier)             International Civil Aviation Day
                Air Traffic Control                                                     Air Defense                                                Taming the Fire                           Father of Russian Aviation                   
          AERONAUTICS AVIATION SERVISCE                         DIPLOMA -Loop the Loop-                                   DIPLOMA -Seagull-                                 DIPLOMA -Shuravi-
                        -25 YEARS CLUB 5th OCEAN-                           -Alexander Molodchy-               DIPLOMA -CONSTELLATION WOLF-      DIPLOMA-They Made The Round Earth-
DIPLOMA-A daring driveway of the people's Commisar-  DIPLOMA - ATTENTION, IN THE SKY OF KAMOZIN-   DIPLOMA -RAYANA KASABOVA-       DIPLOMA -Just a MIG-
                              ***********************************************************************************************************************************************************************************************                          DIPLOMA AFARU-FLAG St.Andrews-                                         DIPLOMA AFARU -DIGI-                                -RadioArktikaAward-                         DIPLOMA-North Pole 1-
                                                                DIPLOMA -AFARU 28-                                DIPLOMA -Immanuel Kant-                                DIPLOMA -ORSA 950-
                                                                                                    DIPLOMA-Chernyahovskiy-               DIPLOMA-Polikarpov N.-
    DIPLOMA -Η Αρκτική Λέσχη-Dixon 100 years-      DIPLOMA  -Polar Varyag-         KALININGRAD -CHERNYAKHOVSKY1336-              KALININGRAD -U2FA-
           DIPLOMA Svetlogorsk                     DIPLOMA Zelenogradskaya                    DIPLOMA Sovetsk                             DIPLOMA Gusev 
            DIPLOMA - Chernyakhovskaya-                 DIPLOMA-Krasnoznamenskaya-                           DIPLOMA   -NEMAN-                              DIPLOMA -OZERSK-
                     DIPLOMA -BALTIYSK-                              DIPLOMA -Curonian SPIT-                           DIPLOMA -AGB 24YEARS-                    KDR-AGB Friendship Russia               
                  DIPLOMA -TROOPS BORDERS-                                                           DIPLOMA -W-DRC-M-                                                                  DIPLOMA -SPRING CRIMEAN-
                                            DIPLOMA -SPRING CRIMEAN-                              DIPLOMA -25 years National Amateur Radio Organization Russia-       DIPLOMA -Moscow Region-                                                   
            DIPLOMA -55 YEARS OF SPACE EXPLORATION - GAGARIN     
DIPLOMA  -OF THE FIRST MANNED SPACE FLIGHT -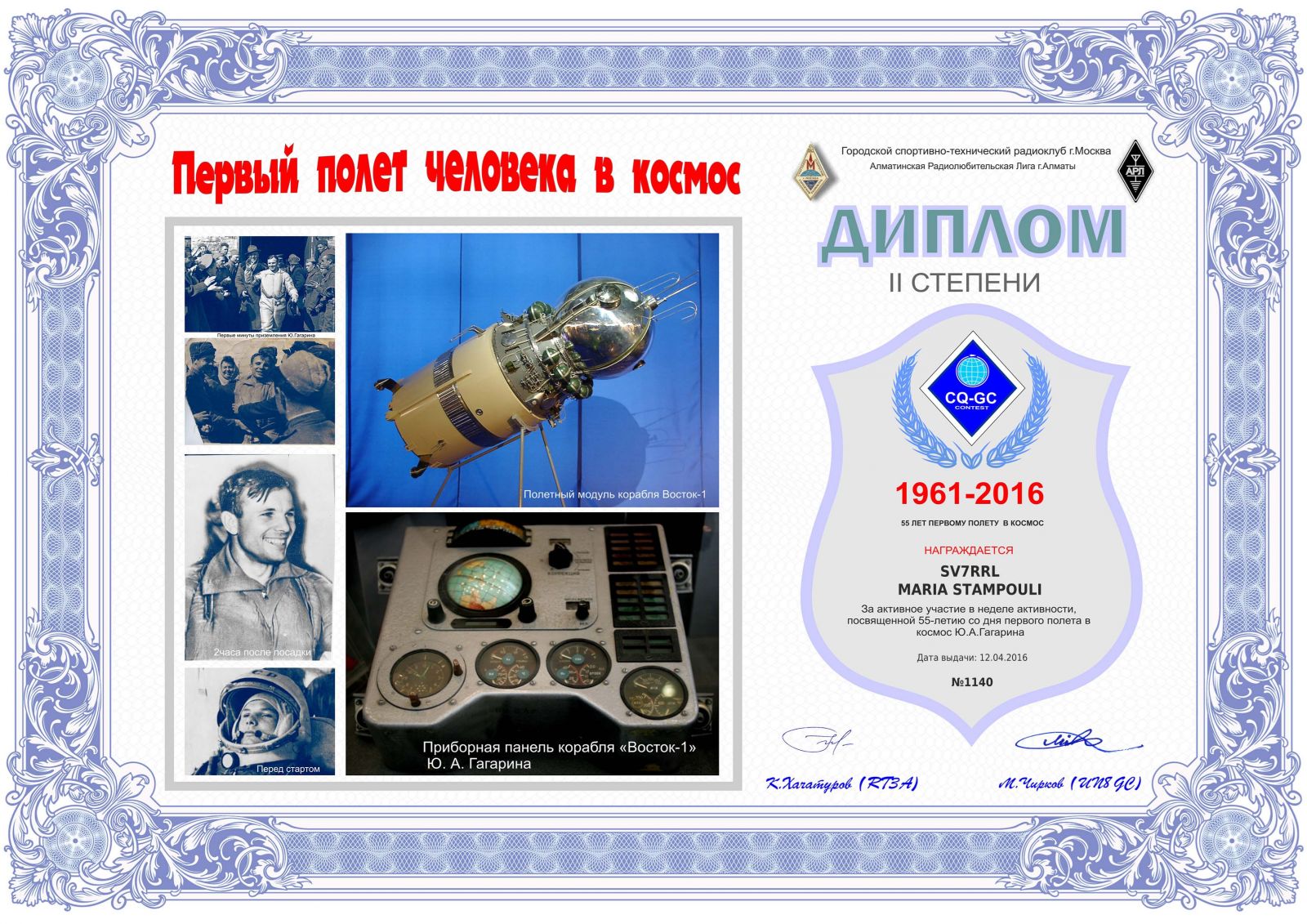 AWARD -- DEAD SEA DX-pedition 2016 --                 DIPLOMA   -SPACE 55-               DIPLOMA -VICTORY  MONUMENT  71-          DIPLOMA -A.N.EFIMOV-
"400th ANNIVERSARY OF THE DEATH OF MIGUEL DE CERVANTES"            DIPLOMA-Radio Towers of Russia-           DIPLOMA W-MDXC-M
                  Youngsters On The Air 2016                               

Xmas-2016-NETHERLANDS                       AWARD -Happy New Year 2017-Christmas-RUSSIA-               90 years -DOSAAF-
       W-ARCK-DX         AWARD-14th ANTARCTIC ACTIVITY WEEK 2017-  
DIPLOMA-70 YEARS RADIO -CLUB IMPULSE-
  ***************************************