QSL INFORMATION
I am a keen QSL card collector. Please send your QSL card if we have had a QSO.
SWL reports are also welcome..
If you would like a QSL card, please​QSL via M0OXO via Bureau or Direct
or via eQSL or LOTW.
You can request your card online via the link below:-
Please do not send any QSL cards direct to my address here in Australia. They will NOT reach me, as the address shown here on QRZ.com is not my full address. Please QSL via M0OXO if you want a card Direct or via the Bureau.
QSL cards for VK5CWL are to be sent Direct to me as per the instructions on the VK5CWL QRZ.com page.  Do NOT send to Charles M0OXO.
MY WEBSITE
Please visit my website. Click on the link below.
A LITTLE ABOUT ME:
I am married to Marija, and have two children, Jake 23, & Olivia 17, from my first marriage.  Marija and I were married in February, 2010, and we spent a very enjoyable 4 weeks in New Zealand for our honeymoon. Other than amateur radio, my interests include a variety of sports, gardening, photography, wine collecting (& drinking of course), astronomy, researching my family history, and spending time with family and friends.
My interest in radio commenced at about age 14-15. For some time my grandfather lived at home with my parents & myself, and he was an x seaman and he frequently listened to SW broadcast stations. Due to his interest in SW radio, I started listening to broadcast stations on SW and came across amateur radio operators working on the HF bands. I initially used a cheap portable radio with SW facilities but no SSB capabilities. So I improvised and used another radio back to back to act as a BFO. When I was about 16, I purchased a Yaesu FRG-7700 communications receiver, which I still have today. At age 19, with the encouragement of Chris VK5PN, I sat for the regulations exam and morse code, for the now 'defunct' Australian Novice amateur radio licence and passed both these subjects. Unfortunately due to work commitments, and other interests in life (girls and cars), I never got around to completing the third component, the theory examination.
In June, 2010, I attended a 2 day Foundation licence course held by my local radio club, the Adelaide Hills Amateur Radio Society, and I obtained my Foundation licence callsign of VK5FPAS. The "Foundation" licence is an entry level licence here in Australia which restricts operators to 10 watts PEP and limited to operation on 70 cm, 2 m, 10 m, 15 m, 40 m, & 80 m. Then in June, 2011, I passed the examinations for my upgrade to the Standard licence and obtained the callsign of VK5PAS. This now allows me greater operating privileges including 100 watts and access to additional bands including 20 m & 6 m.
I am a member of the Adelaide Hills Amateur Radio Society (AHARS) which is the largest amateur radio club in South Australia.  I previously served on the Committee, including holding the position of Vice President.  I still hold the posts within AHARS of Awards Manager, and QSL card checking. I am a member of the Wireless Institute of Australia (WIA) and the American Radio Relay League (ARRL).  I am a former Director on the WIA Board.
I am an official card checker for the ARRL for their awards including DXCC. I am an official card checker for CQ Awards. I am also a member of the WIA Awards Committee.  I am also the Awards Manager for the VK5 National & Conservation Parks Award, and the Australian co-ordinator for the World Wide Flora Fauna (WWFF) program).
Above:- In my shack (one of the rear bedrooms of the house)
Above:- (LEFT) Myself and my daughter Olivia; (RIGHT) Myself and my wife Marija.
Above:- with my son Jake.
TX EQUIPMENT:-
1. Yaesu FT 2000 (with Heil Pro4 headset).
2. Yaesu FT1000 (with MD1 desk mic)
3.  Yaesu FT 817ND (mostly used for SOTA).
4.  Yaesu FT 857d (used for my park portable operations)
5. Yaesu FT 450 (with Yaesu MD100 desk mic).
6. Kenwood TS-820s (manufactured about 1977) (with MC-50 desk mic).
7. Kenwood TS-530S (manufactured about 1981) (with MC-50 desk mic)
8. Yaesu FT DX400 (manufactured in 1969)
9.  Icom IC751
10.  Icom IC-7000 (my mobile HF)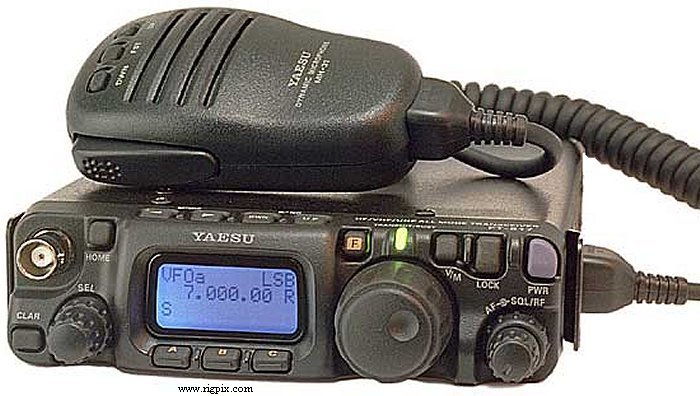 ANTENNAS:-
1. TET Emtron 5 el tri band yagi (for 20m, 15m, 10m) @ 16 metres high. On wind up tower.
2. Home brew 40m dipole @ 13 metres high. On wind up tower.
3. Diamond KV5, 5 band (80m-10m) vertical antenna.
4. Cushcraft A505S 5 element yagi for 6 metres
5. Buddipole Deluxe (for portable work)
6. SOTA beams 40/20 m linked dipole with 7 metre squid pole (for portable work)
7. Multi band vertical antenna (for portable work)
Above:- my TET Emtron TE53 5 element tri band yagi @ 16m
Above:- my Diamond KV5 5 band vertical.
Above:-
(left) My buddipole set up recently at Snelling Beach, Kangaroo Island, &
(right) My buddipole set up at the Mt Barker summit near my home.
MY HOME QTH:
I live at Mount Barker, a town and rural area of about 11,000 people, situated about 40 kms east of Adelaide, the capitcal city of South Australia. The town is about 360 metres above sea level, and is located in the picturesque Mount Lofty Ranges (also known as the Adelaide Hills). Mount Barker is the largest town in the Adelaide Hills and one of the fastest growing areas in South Australia. Mount Barker is close enough to Adelaide, that many people commute there on a daily basis for work, although it is far enough away from the city to still be called 'the country' by many. The area around Mount Barker is a general farming area (dairy, cattle, vegetable production, horse studs, fruit orchards), and now includes a number of wineries/vineyards.
Mount Barker enjoys a mediterranian climate with hot summers and cold winters. In summer, it is not uncommon for the temperature to reach 40 degrees C (it can reach as high as 47 deg C). During winter, temperatures can fall below zero. The average rainfall is about 765 mm. A small amount of snow occasionally falls on nearby Mount Lofty.  Due to the hot summers and hilly terrain, the area is often subject to bushfires. The worst being the Ash Wednesday fires of 1983 which claimed 28 lives and destroyed 380 homes.
Above:- Gawler Street, Mount Barker (the main street & one of the shopping precincts of the town).
Above:- Google Earth view of my home QTH, looking east
Above:- A view from the top of Mount Barker summit.
Above:- A view towards Mount Barker, showing typical countryside, & Mt Barker summit in the background.
Please click on the link below to read some more information on Mount Barker summit and watch a short video on the Mount Barker summit.
http://www.postcards-sa.com.au/features2010/mt_barker_summit.html#
Above: - View of the city of Adelaide with the Mt Lofty Ranges (Adelaide Hills in the background). My home QTH (Mount Barker) is located about 25 kms east of the arrow which is showing Mt Lofty).
Above:- The Heysen Tunnels, leading from the city of Adelaide into the 'Adelaide Hills'.
A significant amount of native bushland vegetation exists in the Adelaide Hills area which supports a variety of wildlife including Western Grey kangaroos, emus, koalas, bandicoots, echidnas (also known as spiny anteaters), possums, and a large variety of native birds (cockatoos, parrots, finches, etc), and reptiles (lizards & snakes-many of which are extremely venemous). Many koalas and kangaroos often fall victim to the busy South Eastern Freeway (the main road between Adelaide and Melbourne), which passes Mount Barker.
Above:- Some of the local wildlife (Koalas & Kangaroos).
Above:- Some local birds: Superb Blue Wren, Rainbow Lorikeet, Adelaide Rosella.
Above:- Kookaburras sitting on my yagi.  They are there every day.
Mount Barker is the home base of "SteamRanger", a popular tourist train with regular trips to the seaside town of Victor Harbor. The town contains about 30 historic buildings including Auchendarroch House, a magnificent mansion built in 1876, which has been lovingly restored and now provides a functional entertainment venue, including a tavern and a seven screen cinema complex.
The world famous "Tour Down Under" cycling event which is the first stop on the world cycling calendar, and the Classic Targa Adelaide car rally pass through the area. The annual three day Jazzfest is held in Mount Barker and features over 30 jazz bands performing in the 12 shopping and entertainment centre precincts, across the Mount Barker area.
The nearby Mount Barker summit which is about 2 kilometres east of the town, offers magnificent 360 degree panoramic views of the area.
Above:- The SteamRanger tourist train which is based at Mount Barker.
Above:- Ferrari GT4 competing in the Classic Targa Adelaide Rally.
Above:- The "Tour Down Under" cycling event.
Above:- Vineyards near Mount Barker.
Above:- Auchendarroch House, built 1876 (now a bar / restaurant / cinema complex).
Above:- The Dunn Memorial Uniting church, built 1884.
Above:- The old Dunn flour mill, built 1844.
Above:- The old Mount Barker Police Station, built 1878.
Above:- The old Mount Barker Railway Station, built 1883.
LOG SEARCH:
I upload my logs to Clublog. See below my last 10 QSo's and a search option for my log.
Every year, on Australia Day (26th January) and Anzac Day (25th April) and World Telecommunication Day (17th May), I operate with the special AX prefix.Below are my QSL cards that I use for those special occasions on the Australian & World calendar.
Since my upgrade on 15th July, 2011:-
272

 countries worked (SSB)
268 

countries confirmed (SSB)
LIVE VIDEO FEED:
I have a live video feed using livestream.com. I will have this activated on some occasions whilst on air.
MEMBER OF:
Wireless Institute of Australia (WIA).
ARRL
Adelaide Hills Amateur Radio Society.
SWARL (Short Wave Amateur Radio Listening).
Pacific DXers.
10-10 International.
Australian Radio DX Club.
VK Contest Club
Amsat VK
Digital Modes Club (DMC)
http://www.digital-modes-club.org/index.php/en/
European Phase Shift Keying Club (EPC)
Belgium Digital Modes Club (DMC)
SOME INTERESTING WEBSITES:-
http://www.southgatearc.org/bands/10metres/index.htm
CONTACT ME:-
simmopa@iprimus.com.au
SKYPE:-
simmopa Mount Barker, Australia
VERY BEST WISHES AND 73 FROM
MOUNT BARKER, SOUTH AUSTRALIA.