---
Update: 25 October 2010
On the 24 of October 2010 I had the honor of talking to Alvin Schwertfeger the previous holder of the WØPE call sign. What a wonderful person and we will be in contact now often ..... As someone told me we are not the owners of a call sign just keepers of it. Well I hope I can keep the call in as good of shape that Alvin did. He is the original WØPE ... The first holder of the call.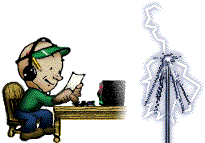 Just a few quick notes:
In the last 35 years many things have changed in amateur radio. Some things have been very good some not so good. It is still a great hobby.
I have enjoyed working from the low bands up into the microwave band (1.2Ghz). Most of my time was been on 2 meter simplex and UHF repeaters / remote bases. Also have built many repeaters and with the new controllers out there have had a blast doing the programming.
With the encouragement of people like "Bud" Whiteman (SK W6VT) and Ted (WB6LYK) I started out as a technician class back in 1973. After a few years I got the bug to go on the low bands so headed off to the FCC to pass the 13 wpm code. In 1984 I wanted to get a General Radio ticket so while I studied for that figured it was a good time to upgrade to advanced class on the amateur radio side. Got to take the test at one of the very first VEC test sites. In March of 2007 took the Extra test and passed that. I started off with the call WA6GSC in 1973 and then in about 2004 changed to the W6GSC call. In August of 2008 put in for the WØPE call and got it. The connection to the zero call was that I was born in South Dakota.
I could go on all day with a list of great people that I have met in amateur radio. One of the very finest Tommy (SK W6ALO).
One of the greatest things now is working with Ken W6KOS as a VE.
To all the new people in amateur I only hope they can half as much fun as I have in 35 years.
Electronic QSL's : 1st qrz logbook - 2nd eQSL - 3rd LOTW - 4th HRD Log Paper QSL Cards : WØBureau or Direct. 100%
SWL reports...  Yes no problem
Life member and VE ARRL
DMR: 1106422  Listen on TG SoCal 
Clubs : QCWA # 34730... PODXS 070 #975... 30 MDG #2799... EPC 16069 ...10-10 #75646... SMIRK  6978   WCARC
WX Stations : WØPE-1 Yorba Linda, Ca 
73 Fred WØPE aka WA6GSC and W6GSC