First licensed in Aug. 1974 as WN3WZR. Upgraded to General in Aug. 1975 and then to Advanced mid 1976. varying levels of activity until Dec. 1985, then basically QRT until Sept. 2008 when I got my old station out of storage, put up my favorite antenna from the old days and been having fun ever since.
In February 2009 I brought my old Drake into the digital age on PSK. That's where you will find me most of the time now.

Now on WARC bands with my newly acquired TS-430S. (May 2010).

All of my old paper logs have been converted to electronic logs and uploaded to LOTW and eQSL.
Station: Drake TR-4C with RV-4C, Drake MN-2000 Antenna Tuner (80, 40, 20 15 and 10 only) (NOTE: Drake temporarily out of service - using Kenwood on all bands for now
)
Kenwood TS-430S and MFJ-948 tuner for the WARC bands.
Now using (as of July 2011) an ICOM IC-718. All bands/modes, at least until the Drake is back in service.  As of Jan. 2015, the IC-718 is also down for maint and I am now using my Yaesu FT-857D.
Nov. 1, 2015 update:  Passed the Extra class test.
Nov. 23, 2015:  I have retired the IC-718.  good rig, but I decided I needed something different.  the FT-857D is my backup (and base 2m/440) rig again and using a new Yaesu FT-450D on all HF/6m bands.
Antenna: 1 - "Joystick" a.k.a. "Little Wonder" at about 10 feet. (now out of service)
(below antennas new as of 23 Oct. 2011)
or 2 - Mosley TA-31-M rot. dipole (20-15-10m) at abt 20 ft
or 3 - Mosley TW-31-XL rot. dipole (30-17-12m) at abt 20 ft
or 4 - homebuilt 40m rot. dipole at abt 25 ft
Member of:
ARRL
Washington Amateur Communications (PA) - WACom     http://www.wacomarc.org
EPC #5765
PODXS 070: #875, LONP #167    http://www.podxs070.com/ 
    Currently serving as 070 club IOTA Endorsement Manager
30MDG #3688       http://www.30mdg.org/
DMC #3386
BDM #0540
Here is the antenna farm:
QSL card image (May - Aug 2010):
QSL card image (2008 - May 2010)
Old QSL card images circa 1974-1975 (WN3WZR) and 1975-1985:
A picture of me I used as a QSL card, from April 1975
Another picture of me in my old radio shack, circa 1976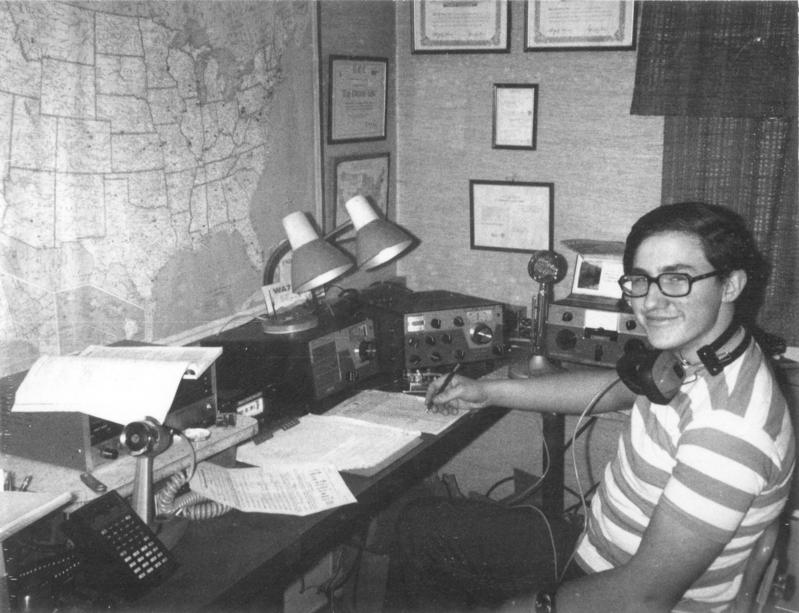 Nice picture of my Shack Feb. 2009 to May 2010.  Before I went modern.