THANKS FOR VISITING MY PAGE, PLEASE CLICK ON THE "WEB" TAB NEXT TO LOGBOOK AND SIGN MY WEB CONTACT LOG.
MANY THANKS AND 73!
Hello! Thanks for visiting my QRZ page and please sign my web contact page with a comment or remark! 
100% QSL on QRZ, LOTW and eQSL!
I QSL on QRZ after every contact, then upload later to LOTW for every contact. I also QSL every contact after I participate in all DXpeditions/contests/qso partys/special events I decide to participate in. 
I do QSL via paper QSL cards but I perfer electronic QSL (QRZ and LOTW), so if you work me within the U.S. and want a QSL card back, please send your QSL Card so I can send you one back.
Here is my QSL Card just in case you wanted to see it: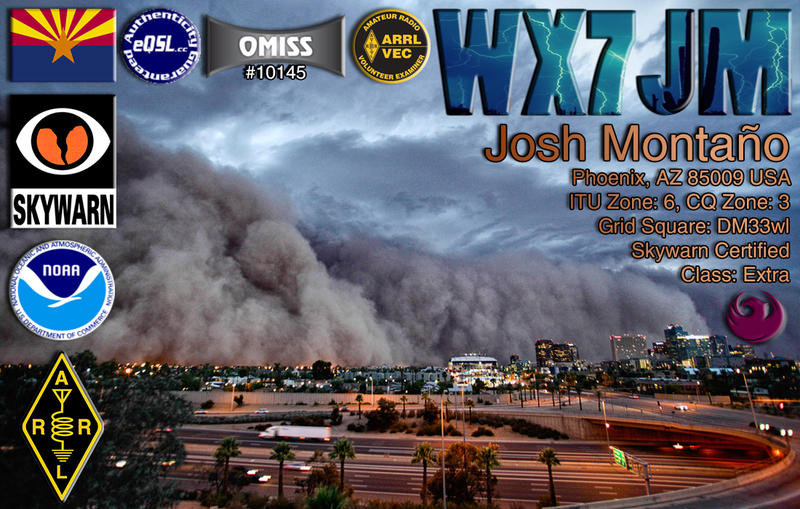 I perfer to chase DX around the world and have met great friends around the world. I also like to have folks contact me on a frequency when I run one and I do enjoy working people for an AZ contact. 
Hope to hear and work you soon! 73
---
Biography
My name is Josh and my QTH is in Phoenix, AZ and I graduated from Arizona State University with a Bachelors of Science in Meteorology. The reason I got into Amateur Radio was to be part of the Skywarn Network and meet new people on the bands on various repeaters and HF Bands. I want to use amateur radio to help work with individuals in the field during severe weather and I also want to help warn people and let them know to get to safety while working with others in such situations.
I am a Net Control Operator for the 21:00 Net on Monday nights. Please visit the website for the 21:00 Net ->here!<- or the Insomniac Trivia Net by visiting the WINSYSTEM ->here!<-
With the help of Travis W7FPV we got my Diamond X500 HNA UHF/VHF Antenna put up onto my house on November 2nd, 2014 and it looks great!. Here are some pictures below of our work that day and the final result. I also have a Hustler 6BTV HF antenna on my house that covers 8 bands from 10 to 80 meters that I put up with the help of WB7X who helped me tune the antenna and helped with the installation of the 28 radials for the antenna. I have since doubled the radials and have them laid out on the roof. I have a total of 48 radials right now.
            Travis W7FPV helping me out.               This is me in my ham radio apparell           Hustler 6BTV roof mounted at my QTH
---
Rising my 6BTV for the first time. (video courtesy of WB7X)
---
WX7JM's Ham Shack
My Ham Equipment
​IC-7000 (All Mode HF+UHF+VHF)
LDG IT-100 Autotuner
Astron RS-35A Power Supply
Yaesu FT-60R (UHF+VHF)
Yaesu SP-2000 External Speaker
HRD 5.0 w/Signalink USB + CIV (Digital Modes)
IC-SM30 Desktop Microphone
Replacement Equipment (Thanks WB7PTC/W7ADO)
IC-756 / Yaesu FT-7800
Antennas
Hustler 6BTV HF Antenna (10-80m + 12+17m Add Ons)
Diamond X500HNA UHF+VHF Antenna (2m,70cm)
---
eQsl AG Certificate
OMISS Lifetime Membership Certificate
---
VE Certificate
On November 15th, 2014 I recieved my Accredited Volunteer Examineer Certificate and Badge which means I am Volunteer Examiner (VE) for the Amateur Radio Relay League (ARRL). I am able to administer exams to prospective amateur radio operators or to those who are upgrading their license.
--------------------------------------------------------------------------------------------------------
Awards:
ARRL DX CENTURY CLUB AWARD
ARRL WORKED ALL STATES
--------------------------------------------------------
2016 National Parks On The Air (NPOTA) Awards
--------------------------------------------------------
eQSL WAS Award
eQSL eDX Award
---
Arizona Science Center Harkins Ham Shack
---------------------------------------------------------------------
W7ASC, Center for Amateur Radio Learning (C.A.R.L.) operates out of the Arizona Science Center Harkins Ham Shack with volunteer Amateur Radio operators. They teach guests about morse code and various other uses for amateur radio and inform them how they can get into the hobby. If you wish to voluneteer at W7ASC please send an email to Bob Burleson KG7QJ at kg7qj@cox.net to learn more.
Be sure to visit the C.A.R.L. Webiste for more info on W7ASC: Click Here!
---
73's to all and I hope to meet you on the HF Bands (10m-80m), the WIN System, 21:00 Net, SkyWarn Net and anywhere else on the repeaters in Arizona or linked systems. 
Have a great day and or evening!
~ Josh WX7JM ~