Hi,
The study ended,
Statistics will be published next month,
Thank you all participants,
73..88...




https://www.youtube.com/watch?v=SUzQLoyAZKc
https://www.youtube.com/watch?v=1CPUaDl0xMY
https://makkahlive.net/tvhd.aspx


Al-i İmran Suresi 96. 
96. Das erste Haus, gegründet für die Menschen, das war tatsächlich das in Bekka – ein 
gesegnetes und eine Rechtleitung für alle Welt. 

96. Ses grades, ainsi que pardon et miséricorde. Car Dieu demeure pardon-neur, miséricordieux.

96. Поистине, первое священное место, которое установлено для людей, – тот благословенный Дом 
(т.е. Ка'ба), который в Мекке. Он является указателем верного пути для миров.



96. The first House (of worship) appointed for men was that at Bakkah full of blessing and of guidance 
for all kinds of beings.
TA3X, Nuri - TA3CY, Yücel - TA1EF, Esamettin - TA3AER, Kadir - TA3EC,Nedim -TA3AHJ, Haluk -TA1API , Samim - 
TC630MECCA QSL Card,
examples,
I will be printing
as soon as possible,
73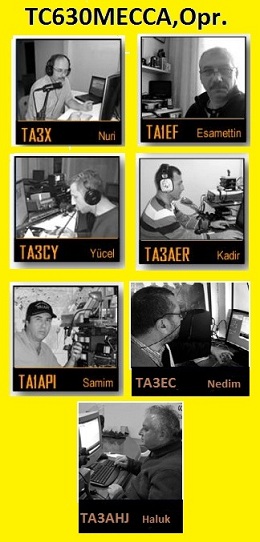 It was arranged for the memory of the conquest of the city of Mecca in MS 630.
Mekke şehrinin MS 630 da fetih edilme anısı için düzenlenmiştir.
Callsign   : TC630MECCA
Dates        : 01/11/2017- 14/01/2018
Power       : 100-400w
Bands  :  10m-12m-15m-17-20m-30-40-80m-160m 
Modes  : all mode, cw, ssb,rtty, psk,sstv
QSL details  : QSL info the explanation is down ,
 
QSL Policy
In plain words, we are not able to send a QSL card for each contact. But all the QSL cards are replied by the same way of request. Contest contacts are also treated as regular DX contacts, in terms of QSL'ing. We have a huge offline database of logs and your QSL can be confirmed easily.
QSL policy can be summarized as: "REPLY ONLY, VIA DIRECT or BUREAU, NO eQSL, NO LOTW"
Via Direct
Direct requests are treated as a priority and replied in a few weeks, when the activity is over.
You should include at least 2 US Dollars or 1 IRC coupon with your QSL card. We are pleased to receive a self addressed envelope (SAE) or an address label with the request. Our postal address for direct QRZ.COM's is:
If you send your card but it does not meet the requirements above, it will be returned via bureau.
Via Bureau
Depending of your and our bureau performance, a delay of several months or few years is to be expected.
Internet Services
We don't use any third party internet services such as eQSL, qrz.com and LOTW.
Exceptions
Although we have "REPLY ONLY" policy, we may send QSL cards to very special stations such as rare callsigns, without waiting any request.
In case of hand exchange in HAM Fairs etc, confirmation may be bypassed.
If we are unsure about contacts, in case of mobile activities or any short sessions, we may bypass the confirmation process and reply the request with correcting our missing record in our logbook.
Email requests with an acceptable reason may have priority upon our QSL policies. Fell free to contact us.
73,
Nuri, TA3X