Short Takes #4
By Dave Jensen, W7DGJ
Short Takes #4 – Trials and Errors
It's fun to look at the small and interesting products produced by custom shops and creative types on the website Etsy.com. I have enjoyed several purchases made there over the last couple of months, and here are two of them.
An (Expensive) Antenna Accessory with Great Utility
The SkyHook is a military grade metal plate made especially for surplus government masts, but which will fit other masts (aluminum, fiberglass) with its 40mm center hole. It has a number of points for guying your antenna which makes that process quick and easy, and they're large enough (9.5mm) for clips or carabiners. It also has a 15.5mm hole that makes it easy to mount another antenna or to fit an SO-239 to 3/8" x 24 Threaded Stud Antenna Mount adaptor.
I can see a lot of uses for the SkyHook, which is produced by Scott Boutwell (KG5RJR). It's a super handy little gizmo that may be just what you need for your next antenna installation. Personally, I thought the build quality was good, with construction out of a solid plate of 5250 .187" Aluminum, but rated an A- here on Trials and Errors due to the poor print job on the outside of the SkyHook (which would have nothing to do with performance). User experience rated an A. While it's really pricey for what you get, a chunk of aluminum (different versions run from $25 to $50, depending upon the model, and the more expensive version is shown in my photos), you'd be hard pressed to get the equipment and this grade of aluminum to produce it any cheaper yourself. They can be stacked, allowing for even additional uses. KG5RJR is very supportive and fast on the draw if you have questions on use or need some suggestions on your specific application.
Car Mount Accessory for your HT
Sometimes I just want to carry my HT with me to the car, and throw a mag mount up on top of the roof. Quick and easy, down and dirty. For such a purpose, I thought the Ham Radio Cup Holder Mount would fit my needs. The utility of the Cup Holder Mount really depends upon the size of your cup holder, however. I have one vehicle where the Cup Holder works fine and another where it just flops around. My user experience was rather poor as a result (rated a B-) as I had to wrap it with electrical tape until it fit. But the product itself is built well (rated B) and when it fits, it does exactly what it promises. Pay attention to the photos on the Etsy site that show you the size of the device so that it fits your vehicle. This is a 3D printed item produced by Matthew Averitt (KE8ORB) and it comes in many different colors. It can be personalized with a call sign if so desired, but that is in the same color and a bit hard to see.
Comments, questions, or suggestions on new "Short Takes" features? If so, jump on the forum discussion at this link and post them for the author to read and reply.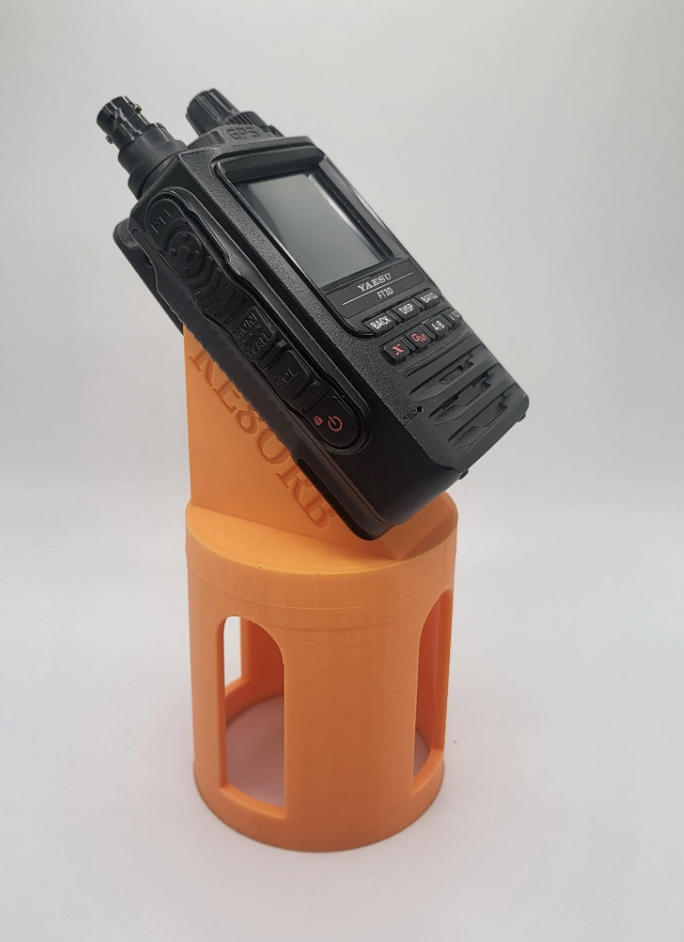 ---
Dave Jensen, W7DGJ

Dave Jensen, W7DGJ, was first licensed in 1966. Originally WN7VDY (and later WA7VDY), Dave operated on 40 and 80 meter CW with a shack that consisted primarily of Heathkit equipment. Dave loved radio so much he went off to college to study broadcasting and came out with a BS in Communications from Ohio University (Athens, OH). He worked his way through a number of audio electronics companies after graduation, including the professional microphone business for Audio-Technica. He was later licensed as W7DGJ out of Scottsdale, Arizona, where he ran an executive recruitment practice (CareerTrax Inc.) for several decades. Jensen has published articles in magazines dealing with science and engineering. His column "Tooling Up" ran for 20 years in the website of the leading science journal, SCIENCE, and his column called "Managing Your Career" continues to be a popular read each month for the Pharmaceutical and Household Products industries in two journals published by Rodman Publishing.
---
Articles Written by Dave Jensen, W7DGJ